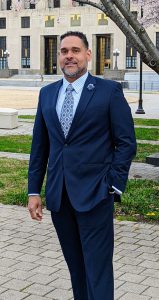 Joseph P. Day was elected to the Office of the Circuit Court Clerk in 2022.  He is the 20th Circuit Court Clerk of Nashville-Davidson County and is the first African American to be elected to the position.  Day is a dedicated public servant and his journey to becoming Circuit Court Clerk started when he worked as a summer intern for the organization in 1997.
Day developed a passion for working in the public sector and served as deputy clerk, training coordinator and helped establish procedures for each department. He thrived in each role eventually becoming Business Manager of the Traffic Warrant Division. Day spearheaded the consolidation of two separate departments, effectively reducing the office footprint and improving efficiency of the business operations. In 2016, he was promoted to Chief Deputy of Public Relations and Employee Development and oversaw employee development programs and maintained working relationship with governmental, legal, business and professional organizations. Day helped lead the development and implementation of the electronic filing system in the offices of the Circuit Court Clerk.
Day was born and raised in Nashville, TN. He attended Metro Nashville Public Schools for his K-12 education and graduated from Whites Creek High School with honors in 1997. Day went on to attend Tennessee State University, graduating magna cum laude with a Bachelor's of Business Administration degree in 2001. In 2011, he obtained a Master's degree in Public Service Management from Cumberland University. Day continued his education by obtaining a Certified Public Administrator certification from the University of Tennessee – Institute of Public Service in 2012.
Day is involved in various community activities and a member of many organizations. He loves volunteering, coaching and helping others.